Cooking
1 . Stage
Finely chop the onion and fry in vegetable oil until golden brown.
2 . Stage
Cut the beef into strips and add to the onion pan. Salt and pepper to taste, cook for about 10 minutes.
3 . Stage
Pour in the wine and simmer over low heat for about 30 minutes.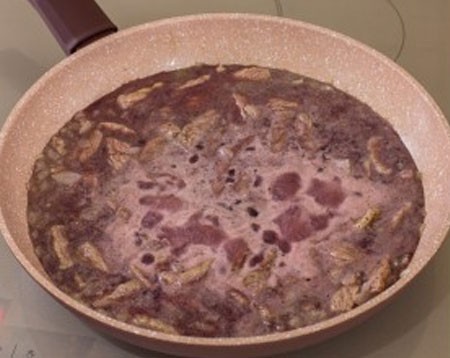 4 . Stage
At the end, try the taste, if necessary add salt and spices. Serve with any garnish.
5 . Stage
Bon Appetit!!!
6 . Stage
Beef stewed in wine turns out juicy, aromatic, tender and juicy, it's quite simple and quick to cook, this dish is perfect for any side dish, vegetables or just with fresh bread. Cut the meat rather finely to reduce cooking time. This dish can be prepared even by a novice cook, use your favorite spices and you can add garlic. You can take any wine that is red, it goes well with beef.