Cooking
1 . Stage
First, boil potatoes and carrots until cooked. Cool and clean.
2 . Stage
Cut the vegetables into medium cubes. Chop the onion finely.
3 . Stage
Cut the cucumber as you like, add half a half liter jar of peas, this is somewhere around 140 gr.
4 . Stage
Dice smoked cheese, add a little salt and pepper.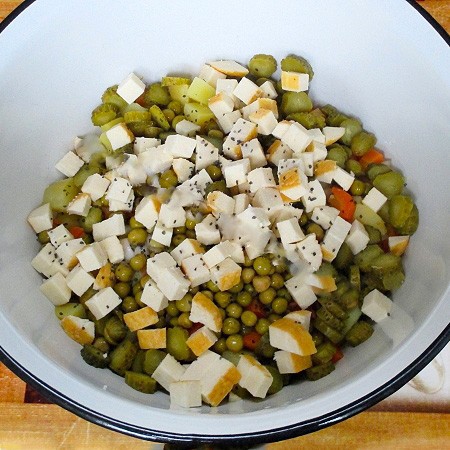 5 . Stage
Add greens to the salad to taste and season with lean mayonnaise.
6 . Stage
Bon Appetit!!!
7 . Stage
Such a salad is perfect for a vegetarian and for people who are fasting, but will allow themselves dairy products. Cheese gives the salad a touch of smoked meat, which is in perfect harmony with the rest of the ingredients. This olivier can be served not only on holidays, but also to diversify an ordinary table.