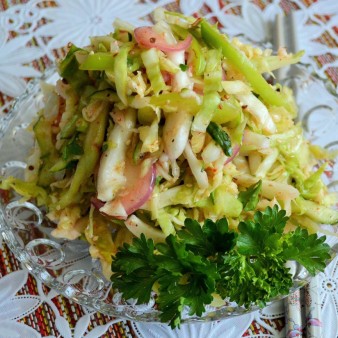 03.08.2022
13
Recipe information
Cooking
1 . Stage
Wash and peel the vegetables. If the onion is large, half is enough.
2 . Stage
Shred the cabbage thinly in long strips. Place in a bowl, salt, lightly grind, stirring.
3 . Stage
Cut the cucumber and peppers into thin slices. Add to the cabbage. Stir to mix.
4 . Stage
Mix vinegar, sugar, and both peppers and place on the vegetables. Chop the onion into feathers.
5 . Stage
Burn coriander seeds in a dry pan, grind them. Chop the garlic. Add everything to the vegetables.
6 . Stage
Heat the oil, put the paprika in the boiling oil. Also add the red onion feathers and immediately remove from the heat. Pour over the vegetables and stir.
7 . Stage
Chop parsley and garlic shoots, add fried sesame, mix. You can serve immediately, but like all Korean salads - it tastes better after 12-24 hours.