Cooking
1 . Stage
Pork 4 liters. cook water for 1.5 hours. Then remove, cool and chop finely. Then send back to the broth.
2 . Stage
Grate beets. When the broth with meat boils add beets there. Simmer.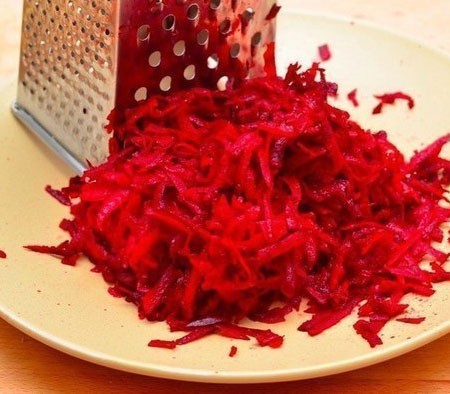 3 . Stage
Peel and dice the potatoes.
4 . Stage
When the beets boil add potatoes.
5 . Stage
Chop the cabbage and add to the pan.
6 . Stage
With onions, peppers and carrots make a frying.
7 . Stage
Add tomato juice to the roasting, simmer for 5 minutes and then pour everything into the pan. Borsch should boil for about 10 minutes, season to taste.
8 . Stage
After turning off, season the Ukrainian borscht with garlic and herbs. Let it stand under the lid for about 20 minutes. Serve with sour cream.
9 . Stage
Bon Appetit!!!