Cooking
1. Stage
Beat eggs with a whisk with sugar and salt.
2. Stage
Add slightly warm milk and sourdough, mix until smooth. For this recipe, any leaven is suitable - purchased or prepared by you.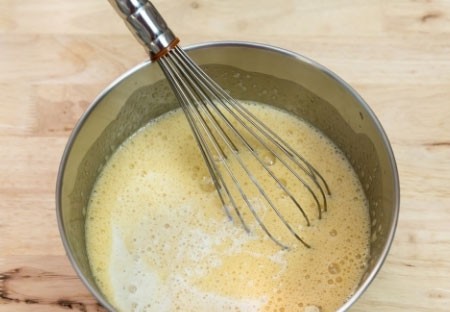 3. Stage
Add the sifted flour together with soda, the flour may take you more or less depending on the quality and grade of flour. The dough should turn out like thick sour cream.
4. Stage
Pour vegetable oil into the dough, mix and let stand for 15 minutes. Take refined, odorless oil.
5. Stage
Bake pancakes in a well-heated frying pan on both sides until they are rosy in color, do not make pancakes too large.
6. Stage
Serve with honey, jam, sweet syrups or fruit.
7. Stage
Bon Appetit!!!
8. Stage
Thick pancakes with sourdough and milk are very tender, airy and delicious. Cooking such pancakes is not too difficult, the main thing is to find or grow high-quality sourdough. They are perfect for breakfast for the whole family, along with honey, jam or other syrups and jams. For Pancake week, you need to cook some pancakes, so choose delicious recipes for yourself and delight your family and friends on this holiday and beyond.