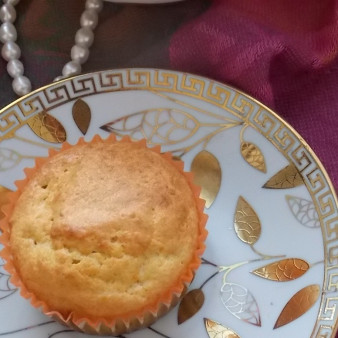 01.08.2022
8
Recipe information
Servings per container:
6
Cooking
1 . Stage
Ingredients.
2 . Stage
Separate the whites from the yolks and whip until stiff. Put the sugar in the softened butter and whisk to a creamy consistency.
3 . Stage
Wash the tangerines, remove the seeds if they have any, peel them and cut them into wedges. Put both slices and peels in the bowl of a blender and puree. Do not worry, there will be no bitterness. Put the yolks in the beaten butter. Whisk. Add the tangerine puree and whisk a little more.
4 . Stage
Add the flour and mix well. Then gently fold in the egg whites.
5 . Stage
You can bake in silicone molds or, like me, in paper molds. If you want the paper molds to hold their shape, put them in thicker molds. Fill to 2/3 full and bake in the oven at t = 180 for about 20 to 25 minutes.
6 . Stage
Ready-made.
7 . Stage
Slice. And that's without a single gram of leavening agent.