Cooking
1 . Stage
Mix strawberries with sugar and beat with a blender until smooth, leave a few berries for decoration.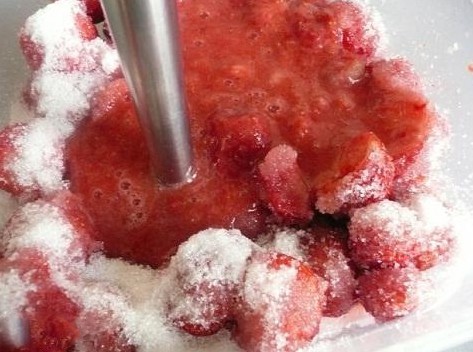 2 . Stage
Add the vanilla sugar to the curd and beat with a blender.
3 . Stage
Put the cottage cheese in a glass, fill the cottage cheese in half, put strawberries in the second layer, put dessert in the refrigerator for 15 minutes. Garnish with whole berries and serve.
4 . Stage
Bon Appetit!!!
5 . Stage
The dessert from strawberries and cottage cheese is very tasty, delicate and cook very quickly. The recipe is easy to prepare and takes a minimum of time. This dessert is perfect for the whole family and especially for children who are very difficult to persuade to eat dairy products. Change the amount of sugar to your taste and depending on the sweetness of strawberries.