Cooking
1 . Stage
Boil the squid for 2 minutes in salted water. Remove the thin outer film, remove the chitin plates. Drain the water, let the squid cool down a bit and cut them into thin rings.
2 . Stage
We clean the onion, chop it. Wash the mushrooms and cut into small pieces.
3 . Stage
In a pan, heat the vegetable oil and fry the onions for 5 minutes. Add the mushrooms and cook, stirring, for another 7 minutes, until golden brown.
4 . Stage
Grate the cheese. Combine the mushroom mass with chopped squid and half the grated cheese. Mix gently.
5 . Stage
In a dry frying pan, lightly fry the flour. Add sour cream, cream, dill, salt and pepper. Stirring all the time, bring the mixture to a boil. Pour the sauce into the mushroom mass, mix.
6 . Stage
Preheat the oven to 180 ° C. We spread the finished mass over the cocotte mills, sprinkle with the remaining cheese and the oven for 25 minutes, until golden brown.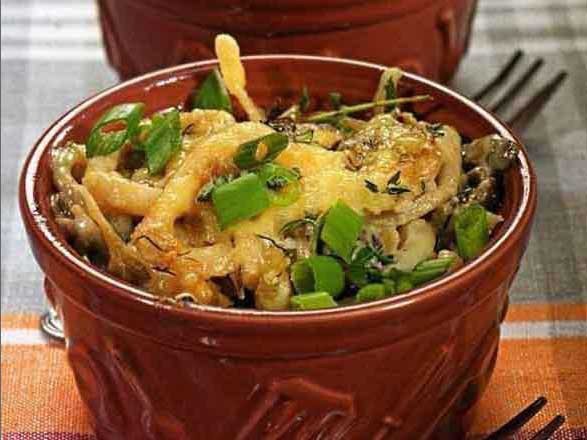 7 . Stage
Bon Appetit!!!