Cooking
1. Stage
Rinse well under running water to make the water completely clean, fill with water 2.5 tbsp. and simmer under the lid until cooked. Remove from heat, add rice vinegar to taste and mix. Cover and let cool.
2. Stage
Boil shrimps until cooked in slightly salted water; optionally, add bay leaf and allspice. Cool and clean.
3. Stage
Peel and chop apples.
4. Stage
Peel the cucumber and cut into cubes.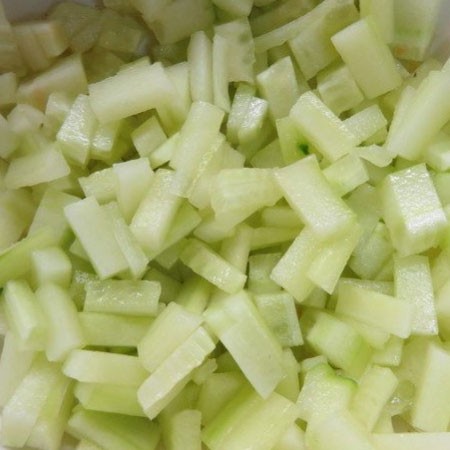 5. Stage
We will collect the cake in a detachable form, so the leaves need to be cut according to its size.
6. Stage
You can cover it with cling film so that later it is easier to get the cake. At the bottom, lay the shrimp nicely, at the end we will turn the cake over and the shrimp will be on top.
7. Stage
The spaces between the shrimp should be filled with capelin caviar and leveled.
8. Stage
Then comes a layer of rice, it needs to be greased with a little wasabi and sprinkled with soy sauce, this procedure will be carried out with each layer of rice.
9. Stage
Grease a piece of nori with cheese and place it with cheese down on the cake.
10. Stage
Mix apples with one tablespoon of cheese and transfer to the cake in an even layer.
11. Stage
Then comes a layer of rice and a leaf of nori.
12. Stage
Put the fish out.
13. Stage
Mix cucumbers with cheese and put on top of the fish. Repeat the rice layer and cover with a sheet of nori.
14. Stage
Put the finished cake in the refrigerator for 1 hour. Garnish with pickled ginger and serve.
15. Stage
Bon Appetit!!!
16. Stage
The sushi snack cake is not only delicious, hearty, but also beautiful, it is not too difficult to cook, but it takes a little patience and skill. The cake tastes like real sushi, it is perfect for a large company or on a festive table. It is better to collect the cake a few hours before the feast, otherwise the ingredients may slightly let the juice go.