Cooking
1 . Stage
In sterile jars, lay half of all leaves, garlic and pepper on the bottom, fill half the jar with tomatoes and lay out the remaining spices and herbs, put the tomatoes to the top.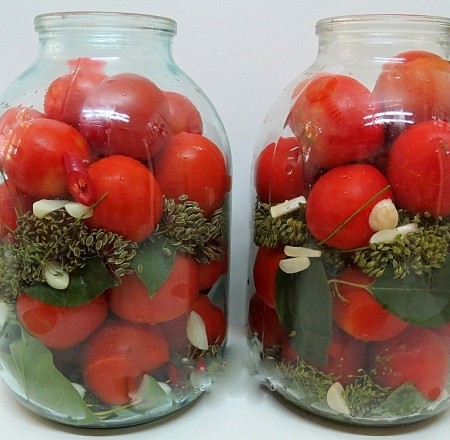 2 . Stage
Dissolve salt and sugar in water, the marinade should be at room temperature. Pour the tomatoes.
3 . Stage
Cover the neck of the jar with folded 4 times gauze and pour 2 tbsp. l mustard. Cover with inverted nylon lids and put the jars in the plates so that the marinade flows quietly.
4 . Stage
Leave the tomatoes at room temperature for 2 weeks, add water if necessary.
5 . Stage
Cover the finished tomatoes tightly with lids and store in a cool place.
6 . Stage
Bon Appetit!!!