Cooking
1 . Stage
Salmon slices need to be prepared in advance. Remove the ridge and other bones, separate the skin from the bottom of the meat.
2 . Stage
The fish fillet freed from the skin, wrap in the middle and secure with free skin, so we get the medallions. Tie the lockets with thread.
3 . Stage
Transfer the medallions onto a baking sheet covered with parchment, sprinkle with chopped parsley, pour each piece with wine and olive oil, salt and pepper to taste.
4 . Stage
Rinse the potatoes well and cut very thinly with a vegetable peeler, put on the fish in one layer. Bake at 180 degrees 25 minutes.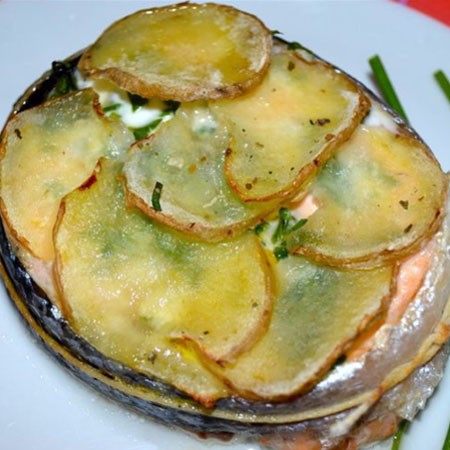 5 . Stage
Salmon medallions under the potato layer are very tender, tasty, juicy and fragrant. Cooking such a dish is very simple and fairly quick, salmon is perfect for any side dish or salad. It is very important that the potatoes are very thinly sliced, instead of parsley, you can use any other herbs, as well as add your favorite spices.