20.07.2022
6
Recipe information
Cooking
1 . Stage
Slice and fry the liver until tender.
2 . Stage
Fry chopped mushrooms and onions until tender. Salt and pepper to taste.
3 . Stage
Separate the yolks from the whites of cooked eggs. Rub the yolks and whites separately.
4 . Stage
Grate cheese on a grater and cut bell peppers into small cubes.
5 . Stage
The first layer should be immediately formed in the shape of a bullfinch. Lay out the salad in layers in the following order: - mushrooms with onions; - grease with mayonnaise; - liver; - grease with mayonnaise; - yolk; - cheese; - grease with mayonnaise; - protein.
6 . Stage
Cut cucumbers into thin strips. And make a "twig" out of them, on which our bird sits.
7 . Stage
Cut olives in half. From a piece of pepper cut a beak and an eye for the bullfinch.
8 . Stage
Insert the beak and eye. Lay out the head and wing of olives.
9 . Stage
From the cubes of red pepper lay "belly" bullfinch.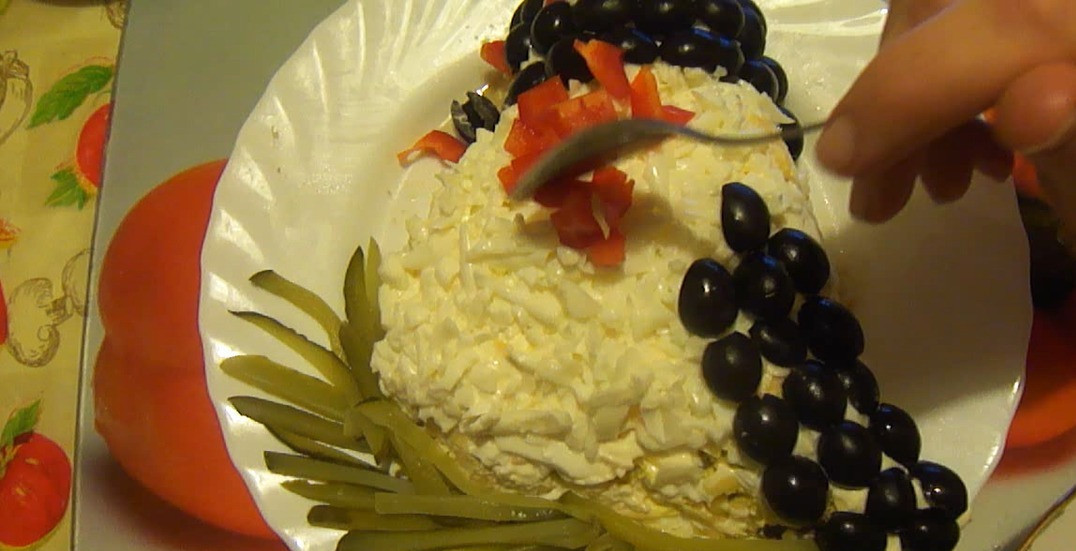 10 . Stage
The "Snowbird on a branch" salad is ready!