Cooking
1 . Stage
Boil squids in boiling, salted water for about half a minute, cool, peel and cut into rings or strips. Add the chopped egg whites and also the chopped crab sticks.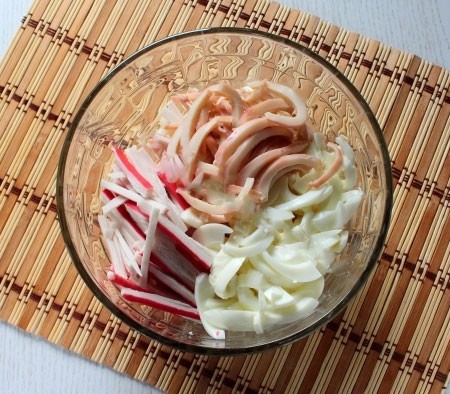 2 . Stage
Boil the shrimp in salted water until tender, peel and add to the salad along with the rice. Salt and pepper to taste.
3 . Stage
Season with mayonnaise, mix and serve.
4 . Stage
Bon Appetit!!!
5 . Stage
Royal seafood salad turns out to be very tender, tasty and satisfying. For cooking, we only need boiled egg whites. Salad will certainly become your favorite, and it will surely win your guests. Serve garnished with greens or whole shrimps, mayonnaise can be replaced with sour cream with spices, optionally add a little bit of garlic.