Cooking
1 . Stage
Peel the vegetables, cut potatoes, celery and carrots into cubes, onions with feathers, leave the garlic intact.
2 . Stage
Cut the fish into large pieces, shrimp also cut, if small then leave whole.
3 . Stage
In olive oil, fry the carrots for about 3 minutes, then add the potatoes and cook again for several minutes, after pour the celery, fry for 2 minutes, add the onions on the fire for 2 minutes, lastly add the garlic and cook for another minute. Remove everything from the fire.
4 . Stage
Put thyme sprigs on vegetables, lay the fish with shrimps, season to taste, pour with honey, spread pieces of butter and spread mashed tomatoes without peel on top. Bake in the oven at 200 degrees for 15-20 minutes.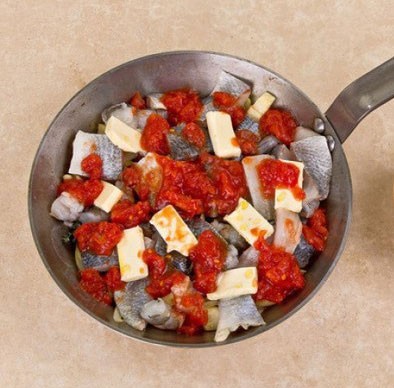 5 . Stage
The fish pan is ready for romance , serve warm directly in the pan.
6 . Stage
Bon Appetit!!!