02.08.2022
11
Recipe information
Servings per container:
10
Cooking
1 . Stage
Sift the flour into a bowl, add the sugar and pieces of softened butter. Stir with your hands until you have wet crumbs.
2 . Stage
Add the yolks and knead the dough. The dough is very pliable and elastic.
3 . Stage
Wrap the dough in clingfilm and place in the refrigerator for 30 minutes.
4 . Stage
Wash the apricots and dry them thoroughly with a paper towel. Cut the apricots into two halves and remove the pips. For this recipe it is better to take apricots in small size! Depending on the size of the apricots you may have from 10 to 12 "ravioli"...
5 . Stage
Roll out the dough into a thin layer about 4-5 mm thick. For ease of further manipulation with the dough, roll it between two sheets of baking paper...
6 . Stage
Cut out 20-24 discs of dough with a diameter of 6 cm. In this way you will have 10-12 cookie ravioli (as I mentioned above, this will depend on the size of the apricots). Now put a small Amaretti cookie in each apricot half. If you can't find a small Amaretti, you can take the classic Amaretti and just break them into pieces.
7 . Stage
Place the apricot halves on the pastry disc. Using a brush, brush the edges of the disc with egg white.
8 . Stage
Cover with the second disc of dough and gently secure the edges.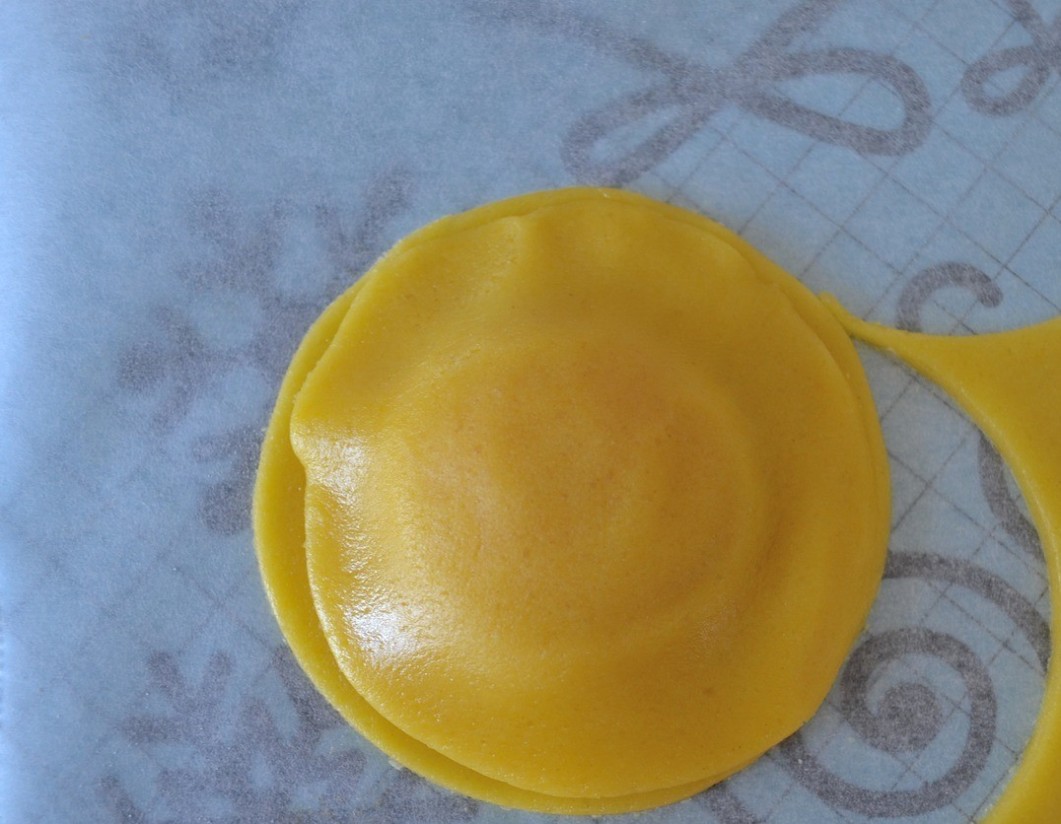 9 . Stage
The best way to do this is with a fork, as in the photo...
10 . Stage
Place all the ravioli prepared in this way on a baking tray lined with baking paper and brush with egg white. Bake in a preheated 170°C oven for about 20 minutes.
11 . Stage
Cool the finished cookies and sprinkle with powdered sugar before serving!