Cooking
1 . Stage
You can cook pancakes according to your favorite recipe or use the recipe Thin pancakes with milk. Dice the onion and fry until transparent in vegetable oil.
2 . Stage
Rinse the chicken liver well under running water and add to the onion pan. Fry until tender for about 10 minutes, at the end, salt and pepper to taste.
3 . Stage
Pass the liver with onions through a meat grinder with a small nozzle. Grate the eggs on a fine grater and add to the liver, mix well and add salt and spices as necessary.
4 . Stage
Lay out the finished filling in the center of the pancake and fold it in an envelope.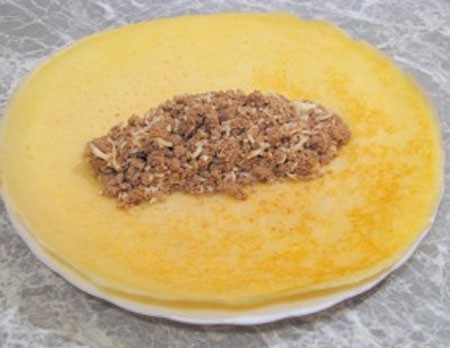 5 . Stage
Optionally, you can fry stuffed pancakes in butter or vegetable oil until golden brown.
6 . Stage
Serve can be cold and warm.
7 . Stage
Bon Appetit!!!
8 . Stage
Pancakes with liver are hearty with a rich and rich taste, the filling in pancakes is tender and quite juicy. To really get a juicy filling, the main thing is not to overcook the liver, otherwise it will turn out to be too dry. These pancakes are perfect for the whole family for breakfast, dinner or as an addition to the first dishes. Be sure to cook such pancakes for your family at Shrovetide.