Cooking
1 . Stage
Peel the potatoes and cut them into thick slices, put on the foil. Cut the foil with the expectation of all the ingredients and so that you could also cover it from above.
2 . Stage
Peel the onion and cut into half rings, disassemble by hand and put on the potatoes.
3 . Stage
Cut the tomato into rings and lay on top.
4 . Stage
Lay the kupat on top of the vegetables, make a toothpick in several places, salt and pepper everything. Cover with foil leaving one hole to let out steam. Bake in the oven at 200 degrees 20 minutes, then open the foil and keep in the oven for another 15 minutes.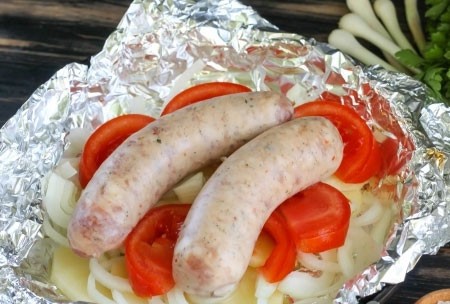 5 . Stage
Serve hot sprinkled with chopped herbs, and also for the flavor you can add a little garlic passed through the press.
6 . Stage
Bon Appetit!!!
7 . Stage
Kupat with vegetables in the oven is a very satisfying, aromatic and tasty dish. It is great for lunch or dinner, for cooking you can use any vegetables that you like best, so adjust their amount to your taste or appetite. Kupatas or meat sausages can be used from any meat; there is no need to lubricate vegetables with oil since juice with fat will stand out from the kupatas and this will be enough. The charm of this dish is that it comes with meat already with a side dish, it is very convenient and easy to prepare, and also significantly reduces cooking time.