Ingredients
Cooking
1 . Stage
For cooking, use non-instant oatmeal, it is more healthy. Pour oatmeal with water, simmer until the porridge becomes sticky, then add salt, sugar and pour milk. Cook for several minutes until porridge is cooked.
2 . Stage
Cut the peach into slices, and fry the nuts until golden brown in a dry frying pan.
3 . Stage
Add the butter to the porridge, arrange on plates, add slices of pepper and sprinkle with nuts.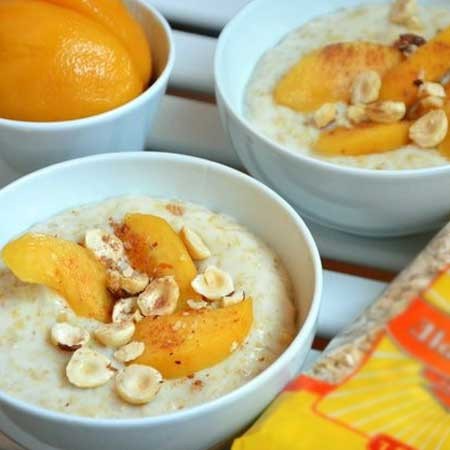 4 . Stage
Bon Appetit!!!
5 . Stage
Children's oatmeal porridge in milk with peaches is not only nutritious and satisfying, but also very tasty. Cooking such porridge is quite simple and quick, it is great for breakfast, not only for children, but also for their parents. Serving such porridge can be done in its pure form without additives, but with fruits and nuts it will be more delicious and it will be easier to persuade young children to eat breakfast. Adjust the amount of sugar to your taste, and it's better not to add it at all, just add a little honey to the ready-made porridge.