Cooking
1 . Stage
In a blender, beat warm water with yeast, vegetable oil, semolina, flour and salt. Beat for 5 minutes.
2 . Stage
Then add baking powder and beat for another minute. Pour the dough into a deep plate and cover with cling film, leave it on the table for 10 minutes, during which time a foam cap should form on top of the dough.
3 . Stage
In the pan on which you will prepare pancakes, grease with a brush with vegetable oil, pour the dough with a tablespoon, such pancakes should be the size of a fritters. Fry for several minutes without turning. These pancakes do not roll over during cooking. Put the pancakes separately from each other on a wooden board or any surface covered with parchment, just when they are hot they stick to each other, when the pancakes cool down a bit they can be stacked without problems in a pile.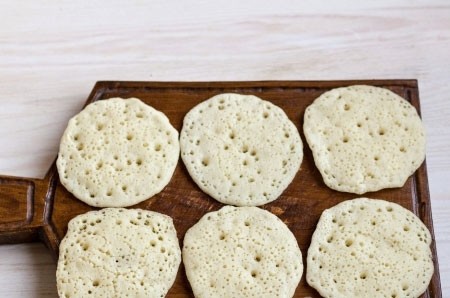 4 . Stage
The main ingredient for serving these pancakes is the sauce. Melt the butter in a deep frying pan, then add honey, mix and bring to a boil.
5 . Stage
Dip the pancakes in the sauce with the side on which they were fried and serve, or you can just pour the sauce on top.
6 . Stage
Bon Appetit!!!
7 . Stage
Moroccan pancakes are very tender, airy and incredibly tasty, the main thing when serving is a sauce of butter and honey. Cooking such pancakes is very simple and quite quick, they do not contain eggs and flour. The main difference between these pancakes from ordinary pancakes is that they are fried on one side only. Pancakes are almost transparent and very airy, when we dip them in a sweet sauce, they simply absorb it and become simply delicious in taste.