Cooking
1. Stage
Preheat the oven to 175 degrees. Lubricate the large cake pan with butter.
2. Stage
Combine white sugar and cinnamon in a plastic bag. Cut balls with dough into each ball add a few raisins. Shake 6 to 8 pieces of balls in a bag with sugar mixture. To smooth out the balls in stages.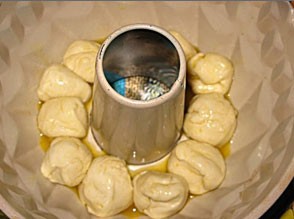 3. Stage
In a small saucepan, melt the brown sugar margarine over medium heat. Boil for 1 minute. Fill the balls.
4. Stage
Bake at 175 degrees for 35 minutes. Let the bread cool for 10 minutes.
5. Stage
Bon Appetit!!!