Cooking
1 . Stage
Dry the thighs with paper towels.
2 . Stage
In a small bowl, mix 3 teaspoons of salt and a teaspoon of ground pepper. Sprinkle it with a mixture of thighs on both sides. Pour the flour into the pan and roll the hips in it from all sides.
3 . Stage
In a large frying pan, heat the olive oil over medium heat. As soon as the oil is heated, fry the hips one by one until golden brown. Add more oil if necessary. Put the chicken on the dish.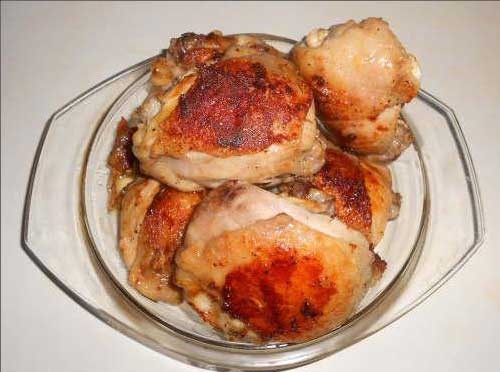 4 . Stage
In the same pan, fry for 5 minutes chopped peppers, onions, squeezed garlic. Pour salt and pepper as you wish.
5 . Stage
Pour wine into a pan and bring to a boil. Leave to simmer for 3 minutes until the liquid is doubled. Add the tomatoes along with the juice, pour in the broth, add sugar, oregano and chopped mushrooms.
6 . Stage
Leave to simmer without a lid for 45 minutes over low heat.
7 . Stage
Transfer the chicken to a baking dish, send it under the broiler for 3 minutes, drain the excess fat, add salt and pepper in addition. Pour the sauce on top of the chicken, garnish with chopped basil.