Cooking
1 . Stage
Pass the meat through a meat grinder or grind it with a blender. Add soft butter, egg, milk, salt and all spices to the minced meat.
2 . Stage
Mix well. Put the minced meat on cling film for 2 tbsp. l and roll tightly like candy. Tie the edges with threads so that the sausages do not unwind during cooking.
3 . Stage
Put the sausages in a pan, fill with water and put on fire. Cook on low heat for 20 minutes after boiling.
4 . Stage
Remove the cling film from the finished sausages, then fry in butter or vegetable oil until golden brown, serve with any side dish.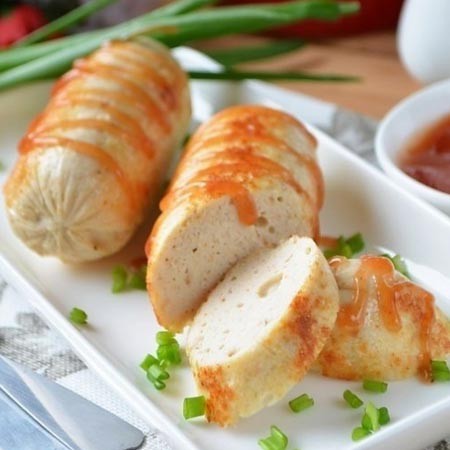 5 . Stage
Bon Appetit!!!
6 . Stage
Homemade chicken sausages are juicy, tasty, hearty and fragrant. Cooking such sausages is very simple and quite quick, these sausages are great for any side dish, boiled or fresh vegetables. Such chicken sausages are quite light and dietary, you can safely give them to children, before serving it is not necessary to fry them, it will be delicious without it. If you like more spicy food, add some hot pepper or any other spices to the minced meat.