28.07.2022
17
Recipe information
Servings per container:
2
Cooking
1 . Stage
Make the chips. Peel potatoes and carrots and grate them on a mandolin.
2 . Stage
Drizzle with vegetable oil, sprinkle with salt and dried garlic, mix thoroughly. Cook in a preheated 120°C oven for 40-60 minutes. Chop some of the chips into crumbs.
3 . Stage
Boiled beets and carrots grate on a fine grater.
4 . Stage
Grate boiled potatoes on a fine grater.
5 . Stage
Finely chop the onions. Pour cold water for 15 minutes, changing every five minutes with fresh water. Drain the water, squeeze the onions and blot them with paper towel.
6 . Stage
Cut the herring into small pieces.
7 . Stage
Boil an egg. The white and yolk separately grate on a fine grater.
8 . Stage
Make balsamic cream (or buy ready-made). Heat up a frying pan. Add sugar and balsamic vinegar and bring to a boil over high heat. Then turn down the heat and steam the mixture for 5-7 minutes. The mixture should thicken slightly, and large bubbles should appear on the surface. Remove from the heat and cool.
9 . Stage
Cover 2 small bowls in the shape of a hemisphere with clingfilm. In each bowl, place in layers beets, carrots, potatoes, onions, herring and grated egg white. Spread mayonnaise and balsamic cream between the layers.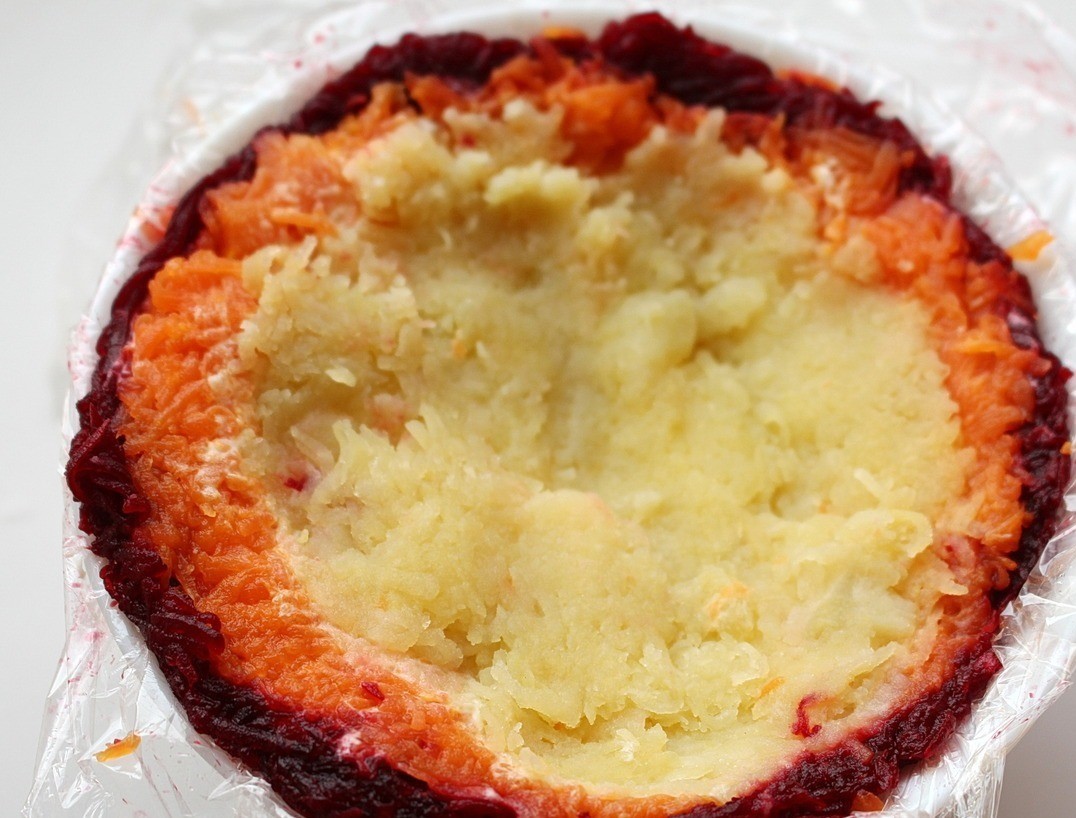 10 . Stage
Carefully take out the salad and place it on a plate, garnished with grated egg yolk and crushed chips. Place the whole chips next to the salad and make patterns with the balsamic cream. Sprinkle the salad on top with chopped green onions.