Recipe information
Servings per container:
2
Cooking
1. Stage
Salt and pepper the fish on both sides and leave for a few minutes while we work on vegetables.
2. Stage
Wash the zucchini and eggplant and cut into circles. Fry the grill on a dry frying pan on both sides until golden. Vegetables should remain a little crunchy.
3. Stage
Fry mushrooms and tomatoes as well.
4. Stage
Fry the salmon on each side for about 2 minutes, oiling is also not necessary.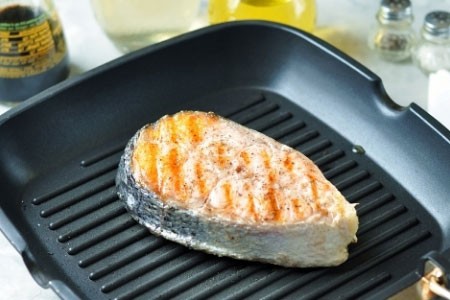 5. Stage
Cut the tomatoes in half, cut the onion into thin half rings, add the remaining vegetables, chopped greens. Pour in vinegar, soy sauce and olive oil, salt and pepper to taste, mix gently. Leave for a few minutes to mix all the tastes of the vegetables.
6. Stage
Serve salmon with vegetables.
7. Stage
Bon Appetit!!!
8. Stage
Grilled salmon steak with vegetables is a very tasty, fragrant, light and most importantly healthy dish. It is low-calorie and perfect for those who monitor their nutrition and figure. This dish is perfect for the whole family for a hearty lunch or dinner. If you wish, you can add any other vegetables, add your favorite spices and herbs. Cooking is very simple and fast, you can also cook on a special grill.