Cooking
1 . Stage
First you need to smear the oil on the bottom of the goose bowl so that the back of the goose does not burn during baking. Lay the goose in the goose box. Put it in a preheated oven to 250 degrees.
2 . Stage
Meanwhile, cut the whole onion into rings. Cut the garlic into slices as you like.
3 . Stage
When you chop the onions, pull out the goose and overlay the onions and garlic on the sides, just lift it with a spoon and distribute the onions also under the carcass.
4 . Stage
Cut the tomatoes in half, if they are large then into four parts. Peel the carrots, parsnip root and parsley.
5 . Stage
When our bird becomes a little golden over the entire surface, remove it from the oven and add bay leaf, tomatoes, whole carrots, parsley and parsnip. Salt then pour wine to wash off the salt a little. Cover and cook at 150 degrees for 5 hours.
6 . Stage
Remove the goose from the oven, separate the meat from the bones, it will be very tender and just fall apart in your hands.
7 . Stage
From bay gooseberries, catch bay leaf and carrots with parsley and parsnip. Put on a strong fire and cook until all the liquid has evaporated, and only the fat from the goose remains, the onion should not be stewed, but almost fried.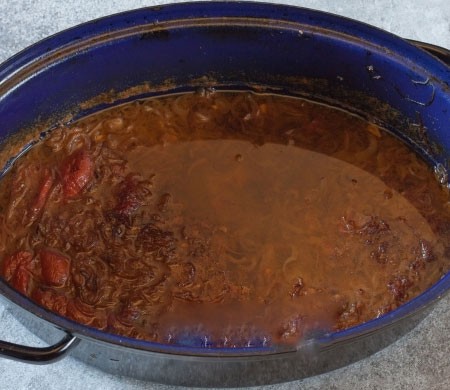 8 . Stage
Throw the finished onion into a colander to stack all the fat. It doesn't seem very presentable, of course, but believe me, this is the most delicious onion I have tried, compared to it, the goose does not seem to be the main ingredient.
9 . Stage
Serve the goose on an onion pillow with a side dish.
10 . Stage
Bon Appetit!!!
11 . Stage
The goose in the goose bowl is stewed completely immersed in a liquid with lots of vegetables, which will become an additional side dish in the future. Of course, such a dish does not look very presentable, so this recipe is more suitable just for a family hearty dinner, the taste of goose and vegetables is simply unique, the meat is very tender and juicy, such meat is usually served in America for sandwiches in a place with onions that are cooked with goose. Serve with any side dish, mashed potatoes will be very combined with such meat.