Cooking
1 . Stage
3 carrots and peel the potatoes and cut them into cubes. The rest of the carrots will go to the decoration.
2 . Stage
Add to the carrots and potatoes diced pink salmon and onions.
3 . Stage
Salt to taste and season with mayonnaise, mix until smooth.
4 . Stage
Put the finished salad on a dish with lettuce in the shape of a fish.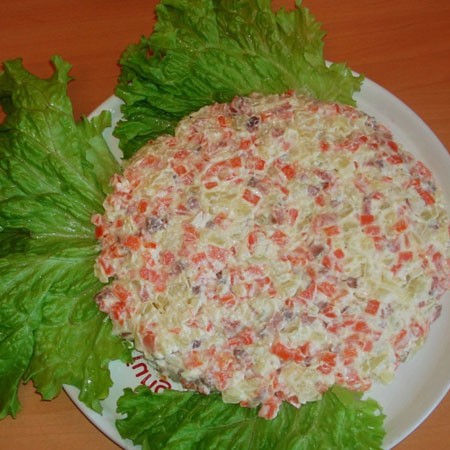 5 . Stage
Grate the eggs on a fine grater and sprinkle part of the salad where the head will be. Cut the carrots into circles and put on a salad in the form of scales, also make an eye and a mouth. Put the finished salad in the refrigerator for 30 minutes to soak it.
6 . Stage
Salad Goldfish with smoked pink salmon is obtained not only very beautiful and spectacular, but also tasty, hearty and juicy. Such a salad will definitely decorate any holiday table and will surprise all guests. You can replace pink salmon with salmon or salmon in this recipe; you can lay out the salad in layers if desired, but this is more troublesome and takes longer to prepare.