03.08.2022
10
Recipe information
Servings per container:
6
Cooking
1 . Stage
Ingredients.
2 . Stage
Pour water over the mushrooms and leave for 20 minutes. Strain the mushroom infusion and boil. Shred the mushrooms finely. From duck cut off a maximum amount of fat, including undercut, and finely chop it. Cut the onions into thin half rings.
3 . Stage
Melt the duck fat. Remove the grease. Fry buckwheat in half of the fat for 3 minutes, pour hot broth of mushrooms so that it covers the buckwheat by 1 cm.
4 . Stage
Cook over medium heat for 10 minutes until all the liquid is absorbed.
5 . Stage
In the remaining fat fry the onion until transparent, add the mushrooms, minced garlic, salt, pepper and cook for another 8-9 minutes.
6 . Stage
Mix mushrooms with buckwheat. Buckwheat with mushrooms is very tasty by itself.
7 . Stage
Fill the duck with a mixture of buckwheat and mushrooms, tie the legs with twine. Mix 1 tbsp of wine, mustard and honey and coat the duck with this mixture. Put the duck on the rack in a baking dish, cover with foil and bake for 1 hour at 200C.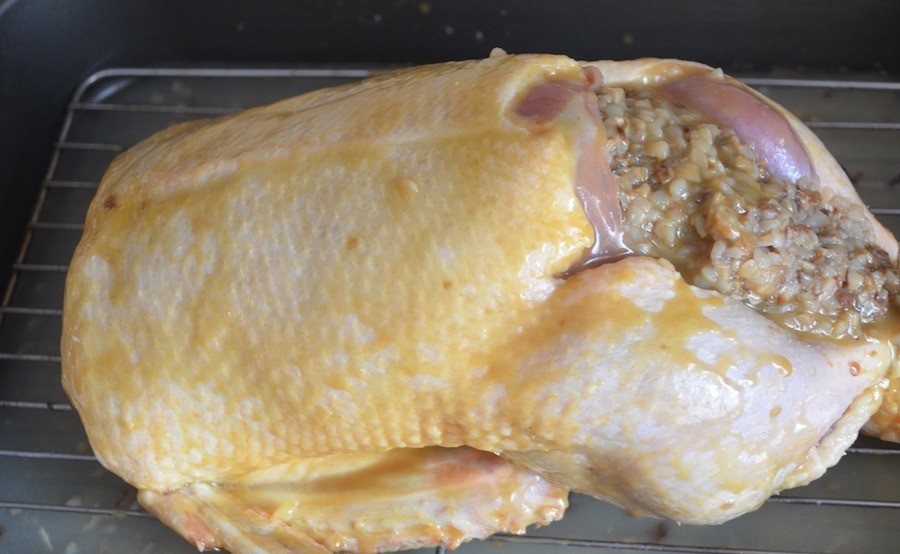 8 . Stage
Cut the rest of the onion into rings, the lemon into circles, and the apple slices (remove the core). Remove the foil from the duck and arrange the onion, lemon and apple slices around it. Return to the oven for 30-40 minutes. While cooking, pour sauce over the duck from the baking tray. Finished duck with lemon, onions and apples put on a serving dish, pour sauce from the tray, cover with foil and let stand for 10 minutes. Then slice and serve.