Cooking
1 . Stage
Finely chop the onion and fry in vegetable oil until golden brown.
2 . Stage
Finely chop the cilantro.
3 . Stage
Chop the cabbage thinly.
4 . Stage
In cabbage, add onions, spices and vinegar. Stir and leave for 10 minutes.
5 . Stage
Add chopped cilantro, minced garlic, nuts minced through a meat grinder. Salt to taste, mix.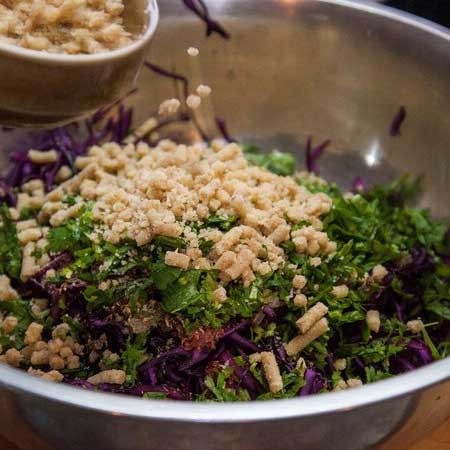 6 . Stage
Garnish with pomegranate seeds and serve.
7 . Stage
Bon Appetit!!!
8 . Stage
Georgian red cabbage salad turns out to be fresh, while tender, juicy and tasty. To prepare such a salad is quite simple and quick, it is great for any meat, side dish or fish. In order to give the salad a little spiciness, you can add a small amount of adjika, if you add adjika then coriander can be excluded. Cabbage needs a little kneading by hand so that it is not so tough.