Cooking
1 . Stage
Chop the cookies with a blender into crumbs, mix with soft butter.
2 . Stage
Cover the baking dish with foil so that the edges of the foil are the same height as the baking dish. This is so that the baked goods can be easily removed with the foil, without damaging them. Flatten the cookies into the mold, forming small rims around the edges. Bake in a preheated 180° oven for about 5 minutes.
3 . Stage
Beat the cottage cheese with a blender until a homogeneous curd mass. Add the sour cream and mix again.
4 . Stage
Beat the eggs with the powdered sugar. It is desirable to mix all the ingredients on low speed or by hand. This way no bubbles will form on the mass and the surface will be smooth and even.
5 . Stage
Add flour and vanilla to the egg mixture and mix gently.
6 . Stage
Mix the egg and cottage cheese, squeeze out the lemon juice. In the end you should get a homogeneous mass without bubbles, similar in consistency to sour cream.
7 . Stage
Fill the mold with the curd mass and cookies. Place in a large container with hot water, and then in an oven heated to 220 ° for 15 minutes. Then reduce the power of the oven to 180 ° and bake on average for another 30 minutes. Baking time will depend on the form. If it is small, but deep, as in the photo - will require a little more time. If the form is larger in circumference, but low - a little less. You can tell when it's ready by the smell of vanilla. Once the kitchen is filled with the smell of vanilla, you can turn off the oven and leave the casserole to cool with the oven door slightly open.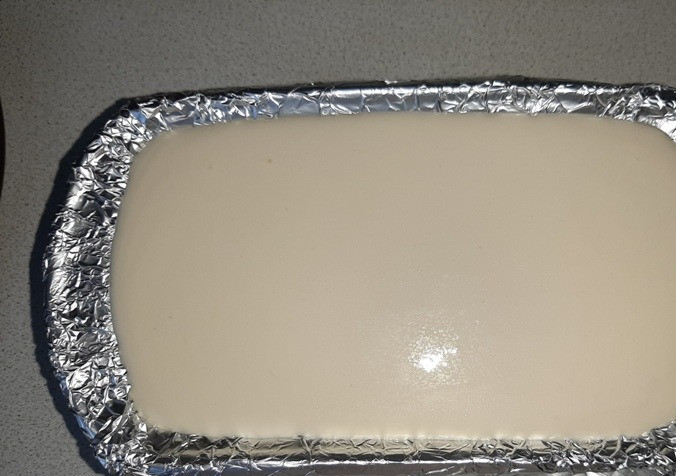 8 . Stage
If time allows, you can put the dessert in the refrigerator for a few hours. Then sprinkle with the lemon glaze.
9 . Stage
Remove the finished dessert from the form together with the foil, remove the foil, put it on a plate and decorate the cake with tangerine slices.