Cooking
1 . Stage
Peel the eggplant, cut into small cubes, add salt and pour boiling water. Put eggplant under oppression for 15 minutes, this will help remove bitterness.
2 . Stage
Peel the tomatoes from the skin, fill them with boiling water for several minutes, then immediately transfer them to cold water. Cut randomly removing the stalks.
3 . Stage
Chop the onion and fry in vegetable oil until soft, about 5 minutes.
4 . Stage
Drain the water from the eggplant and pour it to the onion, fry for 15 minutes.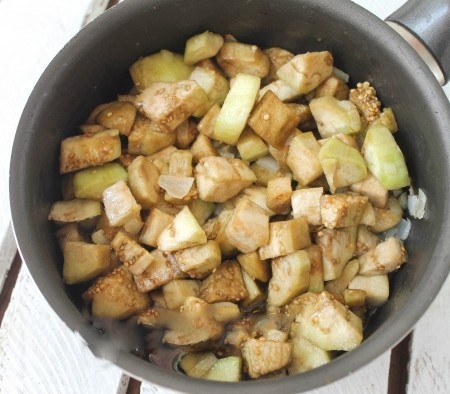 5 . Stage
Add tomatoes, sugar, a little salt to taste, and garlic, passed through the press, to the eggplant. Stew for about 15 minutes under the lid.
6 . Stage
Ready caviar can be served warm and cold.
7 . Stage
Bon Appetit!!!