Cooking
1. Stage
Boil the eggs in a steep and divide into yolks and squirrels, we need only the yolks. Mash yolks well with a fork, add soft butter, sugar, salt to them and mix well. Divide into two parts and add cocoa in one. Then add 140 g to the light part of the dough. flour, and in the dark 130 gr. Do not knead strongly to make the cookies tender. Roll out the dough in identical layers of about 1 cm thick.
2. Stage
Fold the two doughs together, squeeze a little so that they connect and put in the refrigerator for 40 minutes.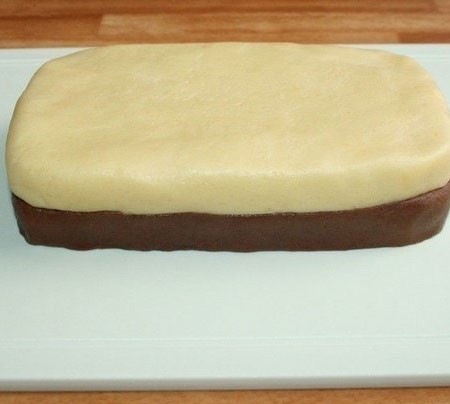 3. Stage
Remove the dough from the refrigerator and cut into 4 thick strips of the same width.
4. Stage
Fold the two strips together to make a chessboard.
5. Stage
Cut the resulting sticks into cookies 1 cm thick.
6. Stage
Spread the cookies apart from each other on a parchment covered in parchment. Bake at 180 degrees for 10-15 minutes.
7. Stage
Let the cookies cool and serve.
8. Stage
Bon Appetit!!!
9. Stage
French sable cookies turn out to be very tender and surprisingly tasty, it is prepared from shortcrust pastry. The shape of the cookie can be made variously important so that two types of dough are combined. Also, in order to roll out the dough of the same size and thickness, you can fold the dough into clean files, roll it to the desired thickness and place it in the refrigerator when the dough freezes, just cut the file and get the same layers. It's easy to prepare such cookies, but laying out the dough takes time and very little agility.