Cooking
1 . Stage
Peel and cut the potatoes in circles. Put the potatoes in water, bring to a boil and cook for 5 minutes, Drain the water and cool the potatoes, salt and pepper to taste. Grease a baking dish with a lid and place the potatoes.
2 . Stage
Cut the chicken fillet into thin slices, also salt and pepper and lay on top of the potatoes.
3 . Stage
Cut the onions into rings, lay on the meat, then cut the tomatoes into slices and lay out with the next layer.
4 . Stage
Top with mayonnaise.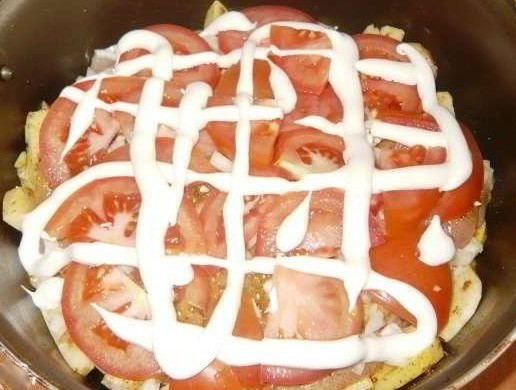 5 . Stage
Sprinkle grated cheese on top. Bake at 180 degrees 40 minutes. If you do not want to bother with potatoes then you will need to bake for about 1.5 hours.
6 . Stage
Serve the dish hot.
7 . Stage
Bon Appetit!!!