Cooking
1 . Stage
For cooking, use a tall cupcake or bread pan, cover with parchment and a little butter. Cut one carrot into plates and grate the rest on a Korean carrot grater.
2 . Stage
At the bottom of the form, lay the carrots cut in plates so that there are no gaps.
3 . Stage
To prepare this dish, take the fillet of any fish, the main thing is that it does not have small bones. Cut the fish into strips and put half on the carrots, salt and pepper a little, you can also add any other spices and sprinkle half the gelatin. All other ingredients also need to be divided into two parts.
4 . Stage
Cut prunes, put them on the fish, it is best to take not too much prunes as this ingredient is quite specific and it is better to take less for the first time. Chop the onion finely and sprinkle on top of the prunes, finely chop the dill and cover with a dense layer, tamp a little with your hand.
5 . Stage
Put the grated carrot and the fish fillet in the next layer, salt, pepper and sprinkle with the remaining gelatin. Repeat layers of prunes, onions, dill, grated carrots. Press your hand again.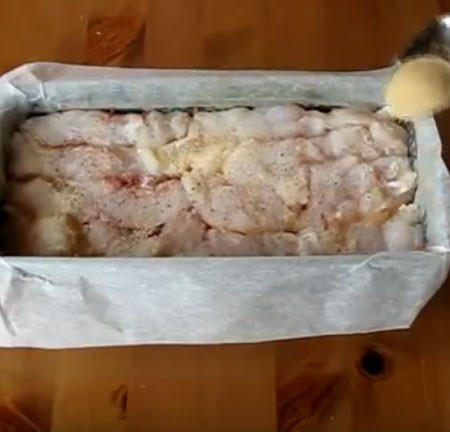 6 . Stage
Beat eggs, pour in milk, salt and pepper to taste. Gently pour the cooked mass into the mold, it should cover the top layer, if there is not enough filling then cook a little more. Let the cake stand for 10 minutes.
7 . Stage
Bake in a preheated oven to 180 degrees for about 1 hour. Let the cake cool in shape, then turn it on the board and refrigerate for 2 hours so that all layers are frozen.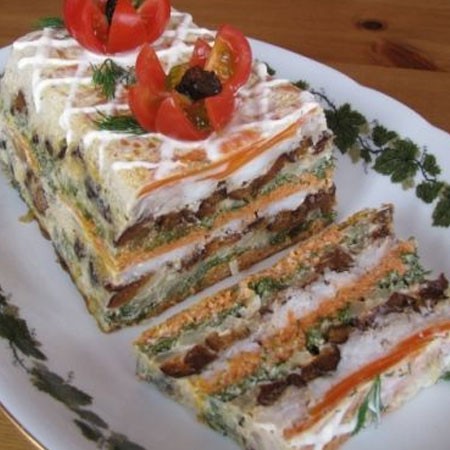 8 . Stage
Bon Appetit!!!
9 . Stage
Fish cake with vegetables is delicious, beautiful, tender, juicy and hearty. This dish is perfect for the festive table. You can cook from any type of fish, the main thing is to make sure that there are no bones in the fillet. Before serving, decorate the cake with a grid of mayonnaise and a beautifully cut tomato, you can also choose your own style.