Cooking
1. Stage
Peel the eggplant and cut into not very thick circles. Put pieces of eggplant in salt water for 10 minutes, then it will not be bitter.
2. Stage
Cut the onion into rings. Fry until golden brown.
3. Stage
Fry eggplant in vegetable oil until golden brown.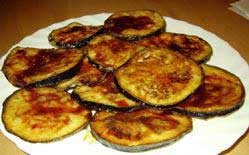 4. Stage
We spread the fried vegetables in a bowl, add chopped tomatoes, salt, pepper and vinegar to the same place. We mix everything.
5. Stage
Bon Appetit!!!