Cooking
1 . Stage
Preheat the oven to 230 degrees C.
2 . Stage
Place the eggplant on a baking sheet. Bake for 30 minutes in a preheated oven, until cooked. Cool and cut into pieces.
3 . Stage
Heat oil in a medium saucepan over medium heat, add caraway seeds and onions. Cook until onion is soft.
4 . Stage
Combine ginger with garlic, curry and tomato in a saucepan and cook for about 1 minute. Add yogurt. Add the eggplant, jalapenos, season with salt. Cook for 10 minutes over high heat. Remove the lid, reduce heat to a minimum and continue cooking for about 5 minutes. Curry eggplant garnish with cilantro.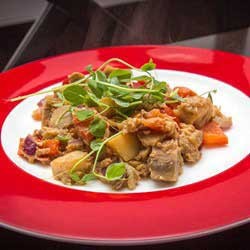 5 . Stage
Bon Appetit!!!