Cooking
1. Stage
Grate carrots on a coarse grater, cut cabbage and pepper into strips. Onion cut into cubes, eggplant circles. Salt the eggplant and fry until golden brown in oil. Fry the onion with carrots until soft, then add pepper and cabbage, salt and pepper. Cook for 5 minutes, then add the tomato paste and simmer another 5 minutes. Slice the tomatoes.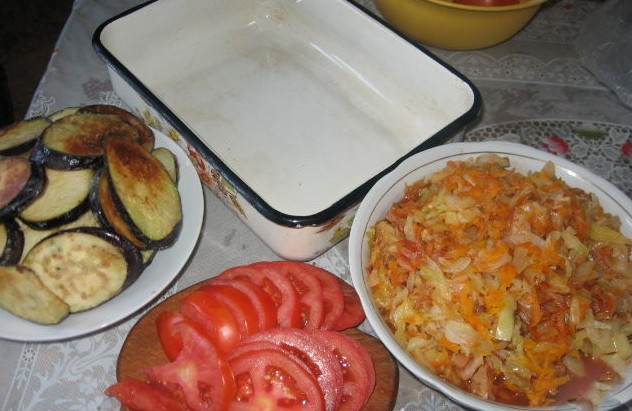 2. Stage
Transfer eggplant to the bottom of the mold, tomatoes on them.
3. Stage
Transfer half the cabbage with the remaining vegetables to the tomatoes. Sprinkle grated cheese on top. Beat eggs, add sour cream, flour, salt and pepper to them. Pour the casserole with the prepared sauce.
4. Stage
Repeat all layers and bake at 200 degrees for 35-45 minutes.
5. Stage
Cool the casserole and serve.
6. Stage
Bon Appetit!!!
7. Stage
The eggplant casserole turns out to be very juicy, tasty and rich, cooking is quite simple. Vegetable casserole is quite satisfying, although you can add minced meat if you wish if you are a big meat lover. You can use any hard cheese for cooking, but smoked will work best.