Cooking
1 . Stage
Cut the eggplants into thick slices, grease well with oil and put in one layer on the parchment covered with parchment.
2 . Stage
Bake at 200 degrees 25 minutes.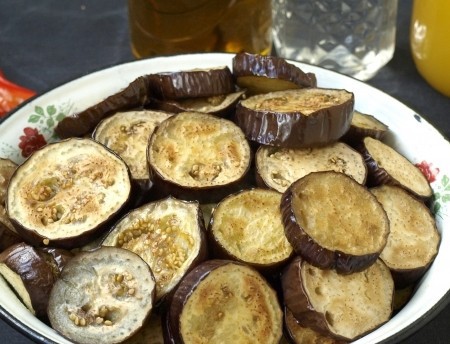 3 . Stage
While the eggplant is baked, peel the peppers from seeds, garlic from the husk. Interrupt everything with a blender and add salt and honey with vinegar to the mass. Mix well.
4 . Stage
At the bottom of sterile cans, lay 2 tbsp. l of our sauce, then lay the eggplant in layers, each layer pour 1 tbsp. l The sauce finishing should be the sauce.
5 . Stage
Cover the jars with lids, put in a pan with water, be sure to cover the bottom of the pan with a cloth. Sterilize 15 minutes after boiling.
6 . Stage
Finished eggplant roll up.
7 . Stage
Bon Appetit!!!