Cooking
1 . Stage
Peel the potatoes, cut into slices, put in a high roasting pan and add chopped peppers and onions, add tomato paste, paprika, garlic passed through a press, pour in the oil, salt and pepper to taste. Mix well.
2 . Stage
Cut the meat into pieces, salt a little and pepper to taste, put on top.
3 . Stage
Cover with foil and bake at 200 degrees for 40 minutes, then remove the foil and bake for another 10 minutes until golden brown.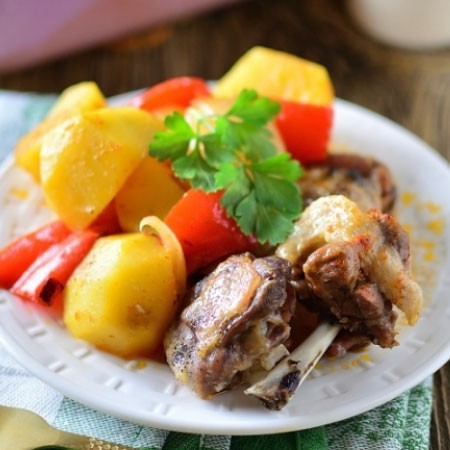 4 . Stage
Bon Appetit!!!
5 . Stage
Duck with potato slices in the oven is quite simple to prepare, the dish turns out fragrant, juicy, hearty and tasty. This dish is perfect for the whole family for lunch or dinner, serve with vegetable salads, pickles or canned vegetables. The meat juice during cooking soaks all the vegetables and makes them very tasty and tender.