Cooking
1 . Stage
Pour mushrooms with water and leave for 2 hours. Then drain the water, fill with water 0.5 l. and cook for 30 minutes. Then cool and chop finely.
2 . Stage
Finely chop the onion, fry in butter until soft, then add the mushrooms and cook for about 5 minutes. Season with salt and pepper to taste, add flour, mix well and fry for another 2 minutes.
3 . Stage
Pour the mushroom broth into the pan, add sour cream, bring to a boil and simmer for 3 minutes.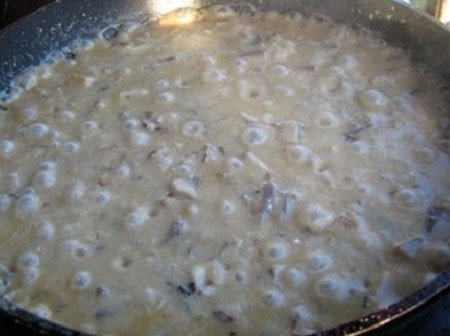 4 . Stage
Cool and serve a little.
5 . Stage
Dried mushroom sauce is thick, rich, aromatic, juicy and tasty. Cooking this sauce is very simple, and to reduce the cooking time, soak the mushrooms in advance. For cooking, you can use any mushrooms, but preferably ceps, sour cream can be of any fat content. The best part about this sauce is that it is perfect for any side dish, and it can also be prepared at any time of the year.