Cooking
1 . Stage
Rinse fresh grape leaves well, put in a bowl, pour boiling water and let stand for about 5 minutes. Fold the leaves in a colander and let the water drain. Drain water, shake off excess water from leaves. Each leaf to remove petioles.
2 . Stage
Peel and finely chop the onion. In a pan, heat the butter along with the vegetable oil, put the onion, salt and fry over low heat, until soft.
3 . Stage
Rinse and cook rice after boiling for 3 minutes, lay on drushlak.
4 . Stage
Wash greens and chop finely.
5 . Stage
Put the minced meat in a bowl, add fried onions, boiled rice, chopped herbs, a pinch of zira, salt and pepper to it.
6 . Stage
Lay the grape leaves on the table with the smooth side down and the distinct veins up. Put some minced meat in the middle of each sheet.
7 . Stage
First, close the stuffing by bending the upper edges of the sheet. Then close the filling with the sides of the sheet and roll up a tight tube, like cabbage roll. In the same way, cook the remaining dolma. Put 2 layers of grape leaves at the bottom of a thick-bottomed pan. Put dolma close to each other, seam down. Pour in water flush with dolma .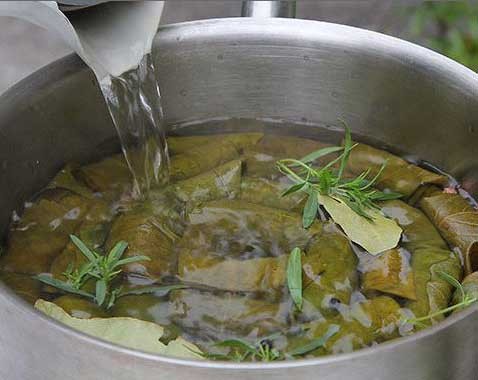 8 . Stage
If necessary, salt a little with salt, cover with a dish, and put a load on top so that during boiling the dolma does not unfold. Put the pot on the fire, bring to a boil and reduce the heat to a minimum. Cook for 1.5 hours with a barely noticeable boil. Remove from heat and let it brew for about 10 minutes.
9 . Stage
Make the sauce. Wash, dry and chop greens. Peel and finely chop the garlic. Combine sour cream with garlic and herbs, salt to taste and mix. Cool the sauce well in the refrigerator for 2 hours. Serve hot dolma with sauce.
10 . Stage
Bon Appetit!!!