Cooking
1 . Stage
Beat soft butter until fluffy, then add powdered sugar in small portions and beat again after each addition.
2 . Stage
Then add cottage cheese to the butter and whisk again a little.
3 . Stage
Melt the chocolate in a water bath, add cocoa and mix until smooth. Heat the cream a little and pour in the chocolate.
4 . Stage
Let the chocolate mass cool slightly and add to the curd. Beat until smooth, then mix again with a spoon. Refrigerate for 30 minutes.
5 . Stage
Apply cream to cupcakes using a pastry bag with an asterisk nozzle.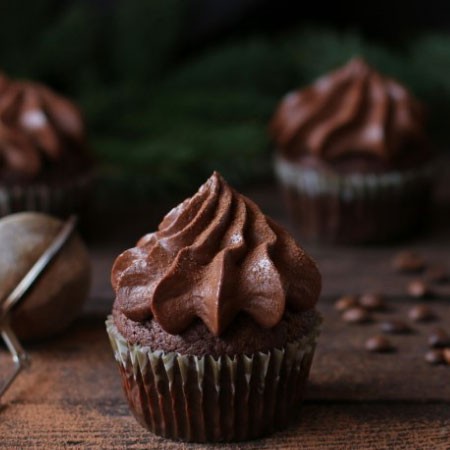 6 . Stage
Bon Appetit!!!
7 . Stage
Curd cream for cupcakes is very delicate, chocolate and airy. It is perfect not only for cupcakes, but also for spreading cake layers, only in such cases add a little more cream to make the cream more tender and soak the cake. You can also make the cream vanilla, just eliminate the chocolate and add vanilla to taste. Adjust the amount of powdered sugar to your liking.