Cooking
1. Stage
To get started, rinse the chicken breasts under cold water, and then wipe them dry. Then, separating each breast separately, first wrap one and then the second breast in cling film and beat to the maximum thin crust. Cut the chopped breast into thin strips of equal width. And leave for a while on a plate, sprinkled with a little salt.
2. Stage
In a separate plate, pour the flour, pepper and salt. In the other, beat 2 eggs lightly, and in the third, pour the breadcrumbs.
3. Stage
Each individual piece is necessary to start dumping in flour. Then dip in the egg. And in the end, roll in breadcrumbs.
4. Stage
Prepare the pan. Pour in oil and begin to heat it over medium heat. Fry each side for 3 minutes and remove from heat.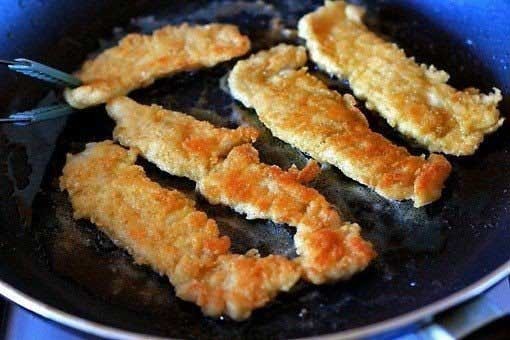 5. Stage
Bon Appetit!!!
6. Stage