Cooking
1 . Stage
In a bowl, sift the flour, cold butter on a coarse grater.
2 . Stage
Grind into crumbs.
3 . Stage
In a separate bowl combine water, egg yolk, sugar, salt. Stir.
4 . Stage
Combine the ingredients and knead the dough. Wrap in clingfilm and place in the refrigerator for 20 minutes.
5 . Stage
Then roll out the dough into a circle and place it in a baking tin lined with foil or parchment, forming rims (tin diameter 20 cm, rim height 5 cm). Prick frequently with a fork.
6 . Stage
Place a sheet of foil, sprinkle peas/beans/special ceramic balls. Bake in a preheated 180 degree oven for 15 minutes. Remove foil and beans. And bake in the oven for another 10-15 minutes. The sandy base is ready.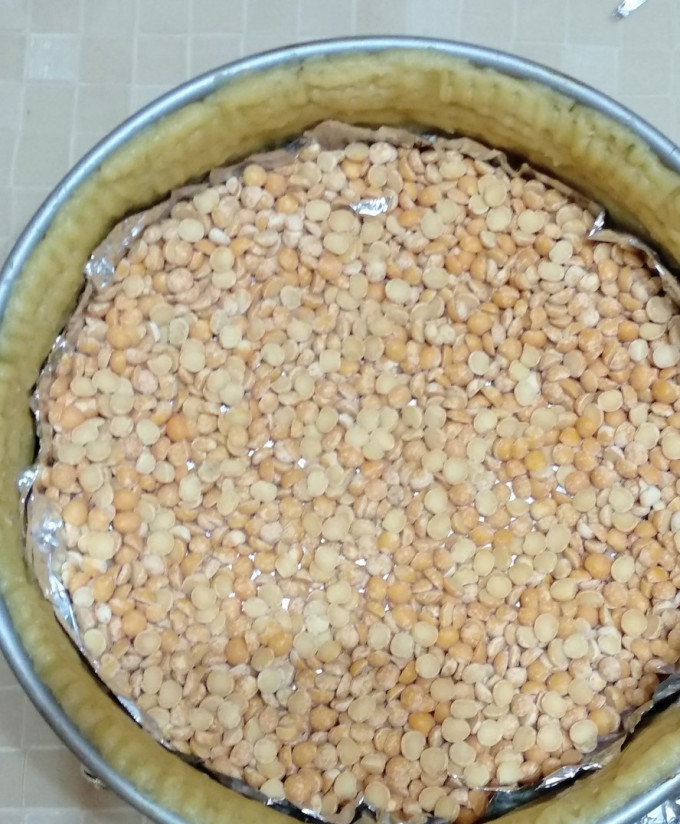 7 . Stage
Place the berries in a pot and pour water over them.
8 . Stage
Boil over medium heat for 7-10 minutes, under a closed lid.
9 . Stage
Then puree in a blender, strain through a fine strainer, helping with a spoon. Allow to cool slightly.
10 . Stage
In a separate bowl, combine sugar, egg yolks.
11 . Stage
Beat until a mass of light yellow color is formed.
12 . Stage
Mix the egg mixture with the cranberry puree, sift in the cornstarch and whisk until smooth. Place over medium heat. Cook for 5-7 minutes, stirring until the cream has thickened. Remove from heat, add butter and stir until smooth. Allow to cool.
13 . Stage
Spread the kurd in the sand form. Place in the refrigerator for at least 1 hour, covered with clingfilm.
14 . Stage
For panna cotta, soak the gelatin in 50 ml. milk. Mix cream, milk, vanilla and sugar in a saucepan. Place on the stove and heat over medium heat to 60-70 degrees, stirring constantly. Do not boil or whisk. Stir in the gelatin. Stir well until completely dissolved. Allow to cool to about 30 degrees.
15 . Stage
Spread the future panna cotta on top of the cranberry curd. Place in the refrigerator for 4-5 hours.