Ingredients
Cooking
1 . Stage
In mackerel, remove the head and entrails, rinse well under running water. Wipe with wipes.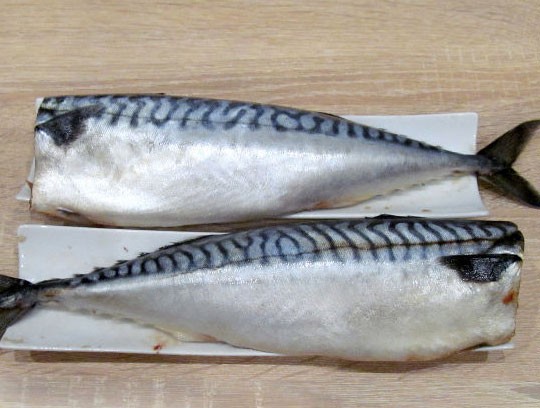 2 . Stage
Pour boiling water over tea and allow time to brew. Then strain the tea leaves and mix with turmeric, salt, sugar, mix well and cool. Then pour in liquid smoke and mix again.
3 . Stage
Cut off the neck of a plastic bottle and place the fish with its tail up, pour the cooked marinade, cover it tightly with cling film and put it in the refrigerator for 3 days, shake the fish from time to time.
4 . Stage
Remove the finished fish from the marinade and hang it by the tail for several hours. Then cut into pieces and serve.
5 . Stage
Bon Appetit!!!
6 . Stage
Cold smoked mackerel according to this recipe is very tasty, juicy, aromatic and tender. Cooking is quite simple, such a fish is perfect for any holiday table, serve as an appetizer just with bread or vegetables, and also very tasty with mashed potatoes. To taste, such a mackerel is no different from the purchased, even tastier. For cooking, you can use fresh or frozen mackerel.