Cooking
1 . Stage
Cut the cherry tomatoes in half.
2 . Stage
Cut the cheese into medium cubes.
3 . Stage
Cut olives into halves.
4 . Stage
Cut the onion into small cubes.
5 . Stage
Finely chop all the greens.
6 . Stage
Mix all the ingredients, add the zest of orange and lemon, salt and pepper to taste, season with oil and mix well.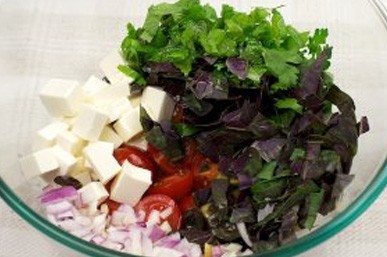 7 . Stage
Such a salad can be served on its own or with any meat dishes, especially delicious with chops)