Cooking
1 . Stage
Preheat the oven to 190 degrees. Melt 100 g of chocolate in a water bath.
2 . Stage
Butter 125 gr. beat in a mixer with sugar. Without stopping to beat, introduce eggs one at a time.
3 . Stage
Add melted chocolate and sour cream. Mix flour with cocoa and baking powder. Continuing to knead at low speed, add flour into the dough in portions.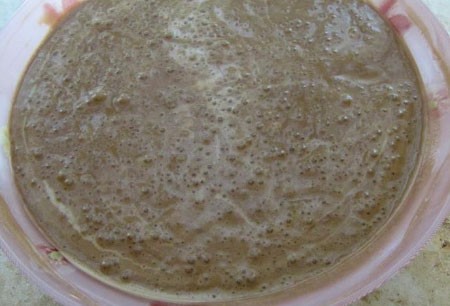 4 . Stage
Lubricate the baking dish with the remaining oil, put the dough out, flatten and send to the preheated oven for 25 minutes. Cool the finished cake in a mold, then turn it on a plate.
5 . Stage
Prepare the icing: melt the remaining chocolate in a water bath, pour 100 ml of cream and warm a little more. Remove from heat, pour in the remaining cream, mix.
6 . Stage
Cover the cake with chocolate. You can decorate with any sprinkle.
7 . Stage
Bon Appetit!!!
8 . Stage
Chocolate cake in 20 minutes is very chocolate, delicate and delicious. I don't know who came up with the name of this cake, but in reality it can't cook for 20 minutes, but at the same time it is not too difficult and rather fast to cook, considering that the result is simply excellent. Such a cake is perfect for a celebration or just for a family tea party. Without a doubt, not only children, but also adults will be delighted. The cooled cake can be decorated with coarsely grated chocolate, various sprinkles or figures.