22.07.2022
8
Recipe information
Servings per container:
8
Cooking
1 . Stage
Almost all the products in the photo, bell peppers from my garden (from the freezer), in the lens did not get only butter.
2 . Stage
I washed and peeled the vegetables, saved the greens from the kohlrabi for serving. I cut the kohlrabi and carrots in sticks, the onion - in quarters of rings, the potatoes - thin slices, the dill - finely.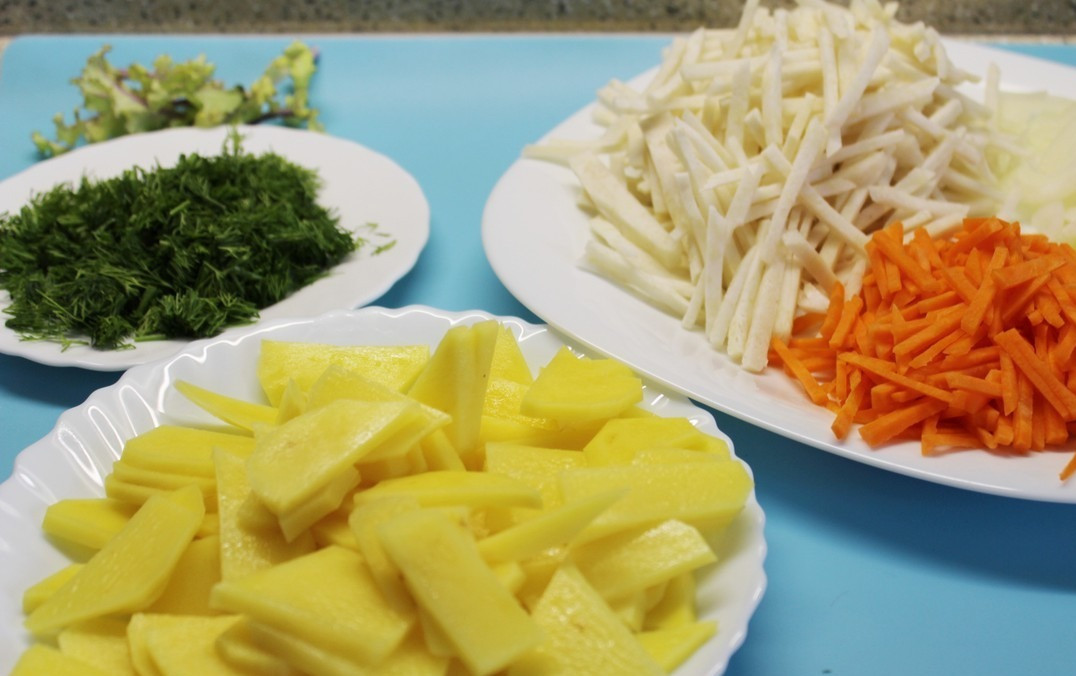 3 . Stage
Melted butter and fried onions until transparent.
4 . Stage
Then I added all the vegetables except the bell peppers to the onions, salted them a little and fried for about 5-7 minutes.
5 . Stage
While I was doing the vegetables, the chicken was boiling. I added a scoop of broth to the pan with the vegetables and left the vegetables to stew under a lid for about 10 minutes.
6 . Stage
I took the chicken out of the broth and boiled the rice in it until half cooked.
7 . Stage
The chicken was cut into small pieces, the garlic - coarsely, prepared slices of bread.
8 . Stage
I added all the vegetables, chicken and peppers to the broth and salted it. The soup simmered until the vegetables were ready.
9 . Stage
At the end of boiling I added dill greens.
10 . Stage
I heated the sunflower oil in a frying pan and fried the garlic until crisp, then took it out and fried the slices of rye bread in this fragrant garlic oil.
11 . Stage
It could be served. The kohlrabi greens served as a nice decoration, and everyone added ground black pepper to the plate on their own.