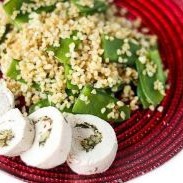 06.04.2022
134
Recipe information
Cooking
1 . Stage
Grind nuts, parsley, thyme, garlic, lemon zest in the kitchen processor, salt and pepper.
2 . Stage
Lightly beat off the chicken fillet, spread the nut filling on the fillet, sprinkle with grated cheese on top. Roll the breast into roll, carefully wrap each roll in foil so that the filling could not leak out in any way.
3 . Stage
Place the rolls in a double boiler (instead of a double boiler, you can use a colander installed above a pot of boiling water, put rolls in a colander and cover tightly) and cook for about 15 minutes.