Cooking
1 . Stage
Cut the chicken fillet into thin long strips.
2 . Stage
Wash and peel carrots and also cut them into long strips.
3 . Stage
Chop walnuts with a knife.
4 . Stage
Prunes cut into slices.
5 . Stage
Finely chop the garlic. Prepare the chicken seasoning, salt and ground black pepper.
6 . Stage
Add chicken seasoning, ground black pepper, crushed garlic, gelatin, and salt to the sliced chicken filet.
7 . Stage
Mix everything very well, so that all the additives are evenly distributed on the chicken meat. Add 50 ml of cold water to the mince and mix everything well again.
8 . Stage
Let's start assembling the roll. We will wrap it in a baking sleeve, which I cut along the seam to form a rectangular sheet (it should be larger than the roll - I have a roll in the finished form - 19 cm). Lay out the baking sheet on a work surface, put 5 strips of chicken on it, distribute carrot strips between them along the entire length.
9 . Stage
Put chopped prunes and sprinkle chopped walnuts between the slices of carrots. Put strips of chicken on top again, then the stuffing, and again the meat and so on until all the ingredients are done. The last layer is chicken.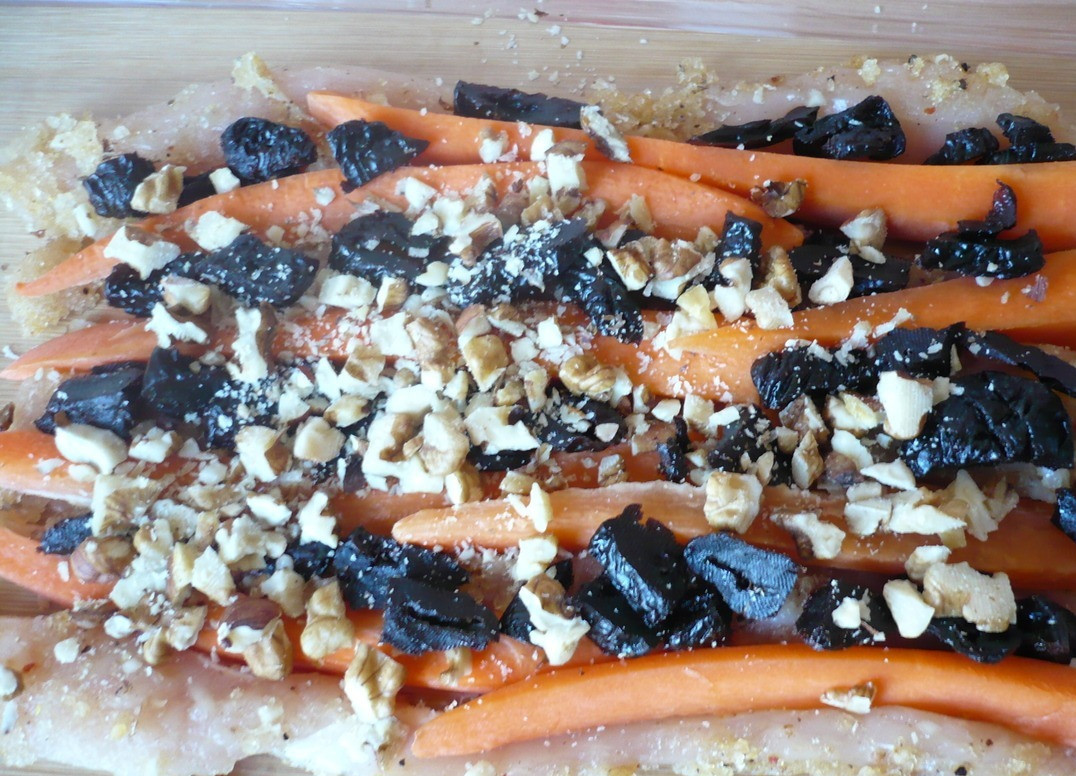 10 . Stage
Roll up the roll with a baking sheet and tie the ends on the sides with twine, trim off the excess.
11 . Stage
To make the baking sheet fit tightly to the roll, tie it with twine along its entire length.
12 . Stage
Transfer the chicken roll to a baking dish (size 25x11). Place in the oven at 150 degrees for 1 hour.
13 . Stage
When the roll is baked, let it cool a bit, and then wrap it in something thick, such as a roll mat and tie it tightly with string (without taking it out of the wrapped baking sheet). In this form, send the roll to the refrigerator for 4-6 hours.
14 . Stage
Now, when the chicken roll is well frozen, you can slice it up and enjoy!