Cooking
1 . Stage
Chicken cut into portions. Salt and pepper the meat. Fry in vegetable oil from all sides until golden brown, about 15 minutes. We shift to a plate.
2 . Stage
Cut the carrots and parsnips into small cubes. Dice the pepper. Onion finely roofed.
3 . Stage
In the same saucepan where the chicken was fried, put onions, half the sweet pepper, parsnip, bay leaf, thyme and oregano. Fry, stirring, for about 5 minutes, until the onion becomes translucent.
4 . Stage
Pour the wine and stir well so as to dissolve all the brown lumps that remained after frying the chicken. We put mashed potatoes in a saucepan with juice and bring to a boil.
5 . Stage
We return the chicken to the stewpan, put the carrots and the remaining pepper. Add water so that it barely covers the contents of the stewpan.
6 . Stage
Bring to a boil and simmer over low heat under a closed lid for about 15 minutes. Then remove the lid and simmer for another 15 minutes, until chicken and carrots are ready.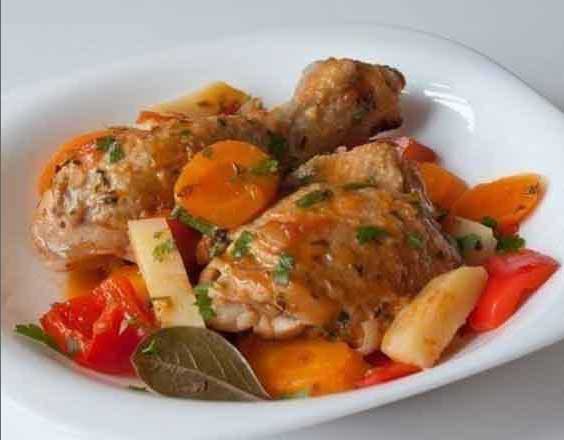 7 . Stage
Bon Appetit!!!